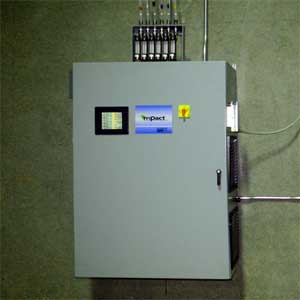 Gaseous ozone effectively combats mold and bacteria in cold storage environments and directly on fruits & vegetables in cold storage.
| | |
| --- | --- |
| mPact Systems | Ozone Output |
| mPact-30CSF | 30 g/hr |
| mPact-60CSF | 60 g/hr |
| mPact-120CSF | 120 g/hr |
| mPact-240CSF | 240 g/hr |
The main benefit of using mPact-CSF gaseous ozone systems is that mold and bacteria can be controlled both in the air and on the surface of the product thereby reducing decay and extending product hold times by reducing ethylene production.
mPact-CSF Ozone Hardware
ACTS mPact-CSF systems feature Plasma Technics Inc. ozone Plasma Blocks for ozone generation. The Plasma Block ozone generator, the next generation technology for higher % O3 per volume weight, is used in mPact-CSF systems. The blocks used in our systems are air cooled thus eliminating the use of coolant water which frequently clogs in competitors ozone cells. The systems can be controlled via 4-20 mA or PID based on setpoints required.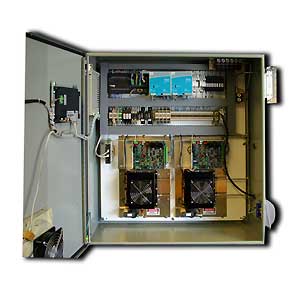 mPact-CSF Programming, Monitoring, Alarming & Control
ACTS' proprietary Remote Monitoring System (RMS) enables users to both monitor and control (optional plugin) ozone levels in cold storage rooms through an Intranet/Internet driven system or via a Human Machine Interface (HMI) touchscreen located on the front of the enclosure. The easy to program machine software features independent 7 day work week setup coupled with both Day & Night setpoint modes for ensuring worker safety at low levels of ozone during regulare business hours.
| | | |
| --- | --- | --- |
| | | |
| | HMI Touchscreen Control | |
| | |
| --- | --- |
| | |
| Ozone Level/Diagnostic Monitoring | Ozone Level Graphing |
Our engineers have validated dosing levels for most fruit & vegetable applications. We have direct experience with Controlled Atmosphere sizing and monitoring. An important aspect of our mPact-CSF design is accurate product ozone dosing and monitoring/controlling ozone levels. Most mPact-CSF systems are PLC operated, however, lower cost smart relay controlled (on/off) models are also available for applications where employee entry to the storage room(s) is not required during operation. Ozone production is controlled via 4-20mA signal from industry proven UV adsorption monitoring equipment.
Alarming for the mPact-CSF system comes standard with EMAIL & PHONE text alarm functionality. Users are simply added by the system adminstrator to receive alarms. The alarm system provides data on ozone exceeding setpoint as well as all machine diagnostic data for troubleshooting ease in case of a failure state.
ACTS is now providing an optional priced control plugin feature for the mPact-CSF RMS monitoring system. The system functions indentically to the HMI (with a computer mouse)but can be remotely viewed anywhere there is an Internet or Intranet connection. This feature is valuable for facility managers to turn on or off rooms remotely from home if needed during weekend or night time hours.
ACTS' mPact-CSF system advantages:
Product "Insurance" – maintains superior product quality while decreasing shrink and increasing cold storage hold times
Air-borne and surface-borne microbial control
Ozone efficiently and economically generated, applied and controlled automatically on-site
Continuously treats and sanitizes cold air at point of introduction
Automatically maintains ozone setpoints for daytime / nighttime microbial and ethylene control
Rapid return on investment
USDA & FDA approved. National Organic Program (NOP) allowed.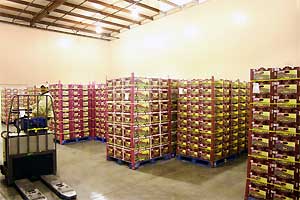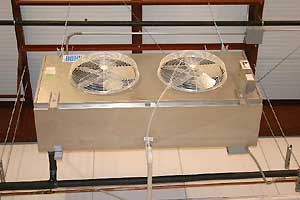 Additionally, gaseous ozone oxidizes and destroys ethylene gas that is released when fruits and vegetables begin to ripen by the following reaction:

Thus, the use of gaseous ozone can reduce ripening while in storage.

ACTS has researched, tested, and collected data on the effects of ozone on a range of fruits and vegetables in cold storage.

"Continuous ozone exposure at 0.3 ppm inhibited aerial mycelial growth and sporulation on 'Elegant Lady' peaches wound inoculated with Monilinia fructicola, Botrytis cinerea, Mucor piriformis, or Penicillium expansum and stored for 4 weeks at 5C and 90% humidity. Gray mold nesting among 'Thompson Seedless' table grapes was completely inhibited under 0.3 ppm ozone when the fruit was stored for 7 weeks at 5C."
"The number of colony forming units (cfu) of fungi, yeasts and bacteria naturally present on the berry [grape] surface was considerably reduced by a 20 minute exposure to ozone. Ozone treatments significantly reduced the extent of berry decay caused by fungi following cold storage and increased shelf-life."

"Ozonizing the air in a cold storage room can reduce the level of ethylene in the air. Ozone generators may be of most use in places where ethylene-producing and ethylene-sensitive fruits and vegetables may be stored in the same room."

ACTS Product Advantages

Ozone Generation
Corona Discharge ozone technology
Concentrated oxygen feed gas using integrated oxygen concentrator(s) to eliminate ozone cell fouling and nitric acid production
Ozone Monitoring and Control
Set-point control of ozone concentration
Personnel Safety
Ozone generation indicator lights
Ozone set-point alarms, ozone shut-down
Professional system integration to provide safe and effective application of ozone